Cindy Yu
Customer Experience Specialist & Project Incubation Director
Magnetar Asia Co-Founder
Change the way you look at things and the things you look at change." – Wayne W. Dyer

" Keep "don't-know" mind and just do it !" - Zen Master Sung Sahn
An important aspect of coaching is the skillful questioning and exchange of information between those with more experience and those with less experience, so as to encourage people to rise to their potential. It is concerned with ensuring that employees are equipped with the skills, understanding, knowledge, and motivation to succeed. This is directly connected to change in the sense that it seeks to shift an employee's perspective, confidence level, skill, motivation, or attitude. Coaching can be applied in many areas of life, including life coaching, sports coaching, health coaching, financial coaching, and career coaching.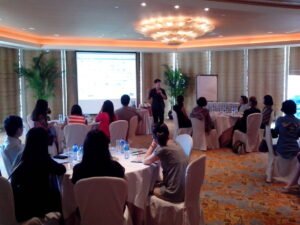 My Training Experience
Cindy possesses more than 30 years work experience with over 15 years in training and consulting to deliver different corporate training programs in the region of Greater China, Taiwan Macau & Hong Kong. She has a highly successful track record in working with groups and facilitating learning, activities and interpersonal communication for all levels of participants; including in Financial Services, Healthcare, Telecommunication, Education, Medical, Hotel, Transportation, Biotechnology, IT, Cosmetic, Food & Beverage ,Consumer Products , Retail , Manufacturing industries , Government , NGO and Related Organization since 1999.

She has also designed and delivered a lot of well-received programs in Hong Kong, and China for different Institution, including the Hong Kong Management Association, The Hong Kong Polytechnic University, School of Continuing & Professional of The Chinese University of Hong Kong, Outdoor Adventurous Training Centre, Hong Kong Youth Leader Training College & the Employment Service of the Hong Kong Council of Social Service.

Before Free Lance Consulting and Training, Cindy was the Training Consultant in a Local Consultant Company. She was responsible for Client Fulfillment in tailoring, delivering different Training programs and also business development. Cindy focused on the customers' business challenges and provided strategically developed learning solutions that impact employees' performance in organizations, thus resulting in an increased competitiveness for the customers. Her consulting services ranged from helping customers in diversified aspects of strategic direction to organization capabilities and effectiveness.

Prior in shifting her career in the Training Industry, Cindy has been working in the Insurance and Financial Industry for over 10 years, serving various local and foreign financial group and investment banks as Zurich Insurance Group, Citibank, Principal, Standard Life(Asia) Co. Ltd. Her last post was promoted to be the Department Head of Distribution Development in Standard Life Asia Co. Ltd. She assumed the role of Senior Business Development Manager to achieve the yearly sales target and managing some major accounts. Besides, she was responsible for training and coaching all front line sales and also licensed in an Investment Advisor by Securities and Futures Commission (SFC).

Prior to the financial industry, Cindy had also worked in the Tourism industry in which her final job was a branch manager to oversee the entire operation and front lines servicing, set direction and strategies to penetrate the market segment in the IN & OUT bound travel agents.

She is able to create an open and friendly atmosphere throughout the training which can inspire, encourage and facilitate learning. She is also good at quoting examples and sharing personal experience in supporting the training theories, her practical approach has made her training very impressive and outstanding. Her warm and nurturing personality predisposes her uniqueness as a facilitator skills trainer. She delivers her training through creative classroom facilitation and Outdoor Experiential Team Building activities.

My Certificates and Rewards
Cindy graduated from the University of Perugia in Italy and MBA awarded by University of Dubuque. She also holds a Fellowship of Life Underwriter Training Council of America (LUCTF) and is a member of Chartered Financial Planner of China (FChFP). Cindy speaks fluent English, Mandarin, Cantonese, Spanish and Italian.

She has been accredited as Certified International Services Quality Management Practitioner(ISQMP) , Trainer , Internal Quality Auditor and Mystery Shopper of Qualicert® , Servicert® and ISO10002 by SGS Limited. Besides, she has been also certified as a Professional Corporate Trainer (Level 1) by Ministry of Human Resources and Social Security of the People's Republic of China, Practitioner of the Myers-Briggs Type Indicator(MBTI) Step I & II and certified Six Sigma Green Belt , Professional Diploma for Chief Brand Officer and Facet5 Accreditations Practitioner , Facilitator of Service Archetypes® .

Some of my served clients
MTR, CocaCola, Manulife, Bank of China, mcdonald, Midland Realty, Citibank, JAL, Shell, PetroChina, SGS Shangri_La Hotel